CNT Flood Photo App
The CNT Flood Photo App was a critical component of the Urban Flooding Baseline Project. CNT explored how qualitative data can complement quantitative data in the stormwater management field. 3-1-1 phone systems, which originally inspired the app, are used by many municipalities to track resident complaints about various issues, including flooding. However, white, middle-class or wealthier communities who city governments have developed trust with use 3-1-1 systems more often than Black or brown communities that may not have a trusting relationship of the government due to historic policies and practices. Additionally, smaller municipalities or those with lower financial capacity do not have a systematic way of logging resident complaints, which is the case for several municipalities in the Calumet region.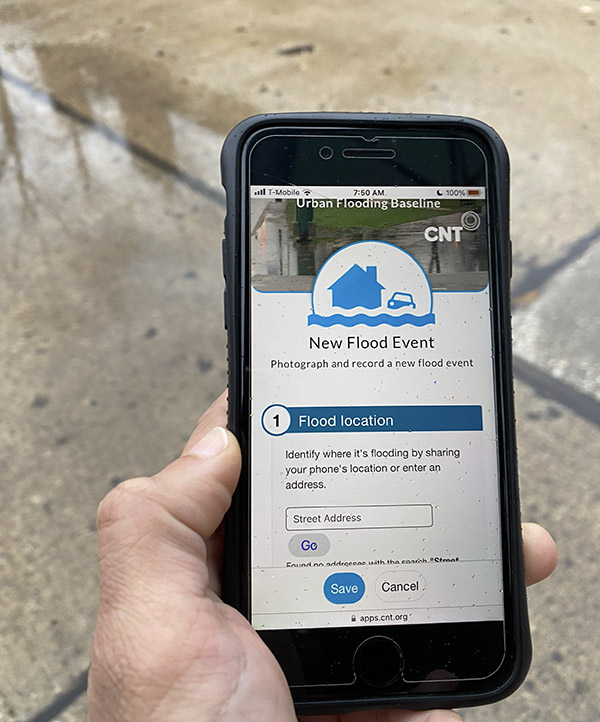 CNT innovated a system for compensated data collection of flood-prone areas. CNT hired residents as data collectors to center the voices of the people directly impacted, since they understand the experience of flooding best and have intimate, local contextual knowledge. These residents were trained and paid for their time spent collecting data. Data collectors used the app to capture photos of standing water after storm events. The app included multiple functions: a photo upload section, location and date information of the photo, fill-in text boxes for data collectors to respond to, and a map visualizing the locations tracked over time.
Please reach us at ufbaseline@cnt.org to learn more about this app.
Thank You
We would like to especially thank our data collectors for their time and effort to collect the stormwater photos: Brittini Bridges, Gerard Evans, Mary Evans, Jacquelene Ford, Mercedes Gross, Esther Heyboer, Rachel Heyboer, Dorothy Mars, Dennis Murray, Latonya Nalls, Victoria Nicholson, Jarice Shaw, Joyce Shaw, Marsha Shields, Lorée Washington, Tempestt Wesley, Nylah Windrom, and Stephanie Windrom.
Special thanks to Advisory Group members Rachel Heyboer, Joyce Shaw, and Lorée Washington for the resident perspective throughout the development of this project and to Karen Kreis and Helen Kavich for their additional input.
Additional thanks to South Suburban Mayors and Managers Association for their partnership throughout the project and the Calumet Stormwater Collaborative members for their support.
CNT would also like to thank the Crown Family Philanthropies for their funding support on this project.
Methodology
Quantitative Methods
The quantitative methods document provides a detailed listing of the indicators showcased in the Maps and Analysis section of the website. The documentation includes information on the source, geographic scale, and vintage of the data.
Download Quantitative Methods »
Qualitative Methods
Community engagement is a vital part of development projects and promoting resilient communities. It is important to understand stormwater impacts not only based on how it affects infrastructure but especially the effects on residents. Between March 2021-May 2022, CNT hired 15 residents (data collectors) from within the Calumet Region to collect photos of stormwater concerns after storm events in the communities of Dixmoor, Dolton, Harvey, Markham, Phoenix, Posen, and Riverdale. These municipalities were chosen because MWRD prioritized these in a Stormwater Master Plan process, which was eventually published in 2022. The goal was to build out the process to compensate residents for data collection so that municipalities or other groups could hire residents to collect qualitative data for stormwater management planning processes.